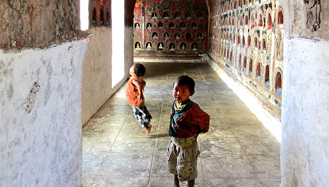 Myanmar Mosaics
This past December, Jack and I embarked on the trip of a lifetime to Myanmar (Burma) and Thailand. I'll spare you the majority of the almost ten thousand pictures we took and share with you these few of some mosaic work. The mosaics we saw in Myanmar were principally of two types — those made of glass frequently incorporating or being entirely constructed of mirror. Those made entirely of mirror frequently included the interesting use of lights including neon. If Las Vegas comes to mind you're on the right track. Others were artfully crafted in precious gems and embellished with gold. In this post I'm including just two sites that I particularly enjoyed. I hope that you enjoy them too. (click on images for an expanded view)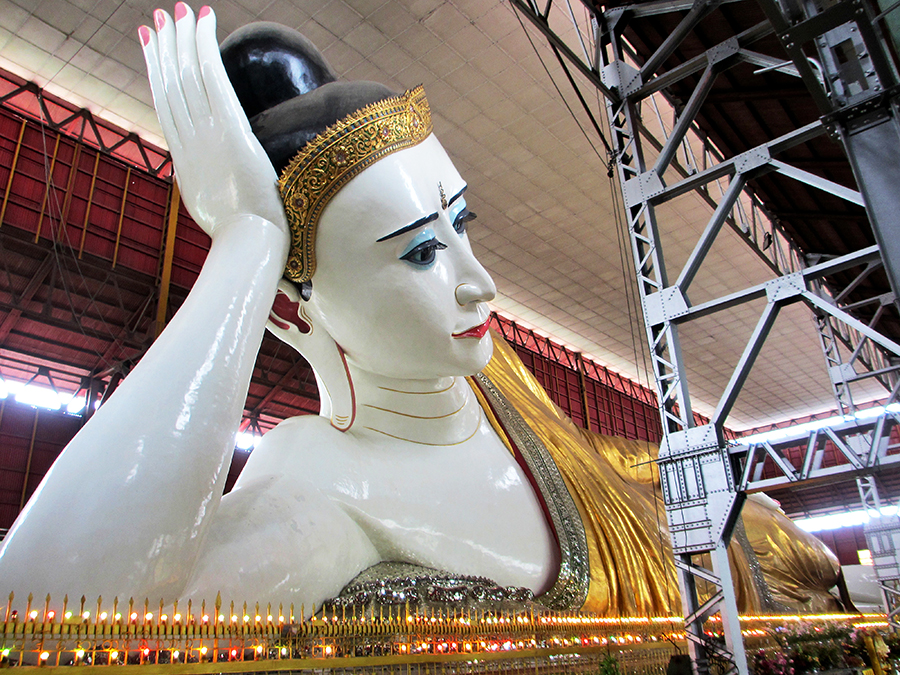 The reclining Chaukhtatgyi Buddha in Yangon is we are told, the largest marble Buddha in the world. It measures approximately 200 feet long and 2 1/2 stories high. It was built in 1966 replacing a somewhat smaller 1907 version that fell into disrepair and was demolished in 1957. It was difficult to get an image that included the whole statue, but these are my best attempts. The Chaukhatgyi Buddha is wearing a crown set with diamonds, rubies and other precious gems.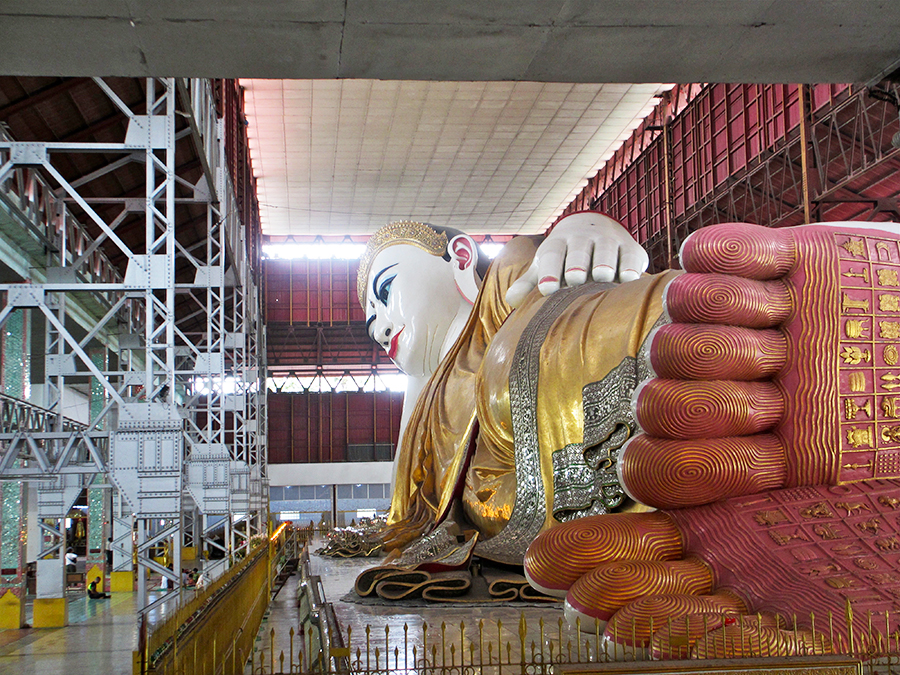 From the other side and providing a little scale. Those splotches on the floor at the lower left of the image are actually people. Yes I felt rather small.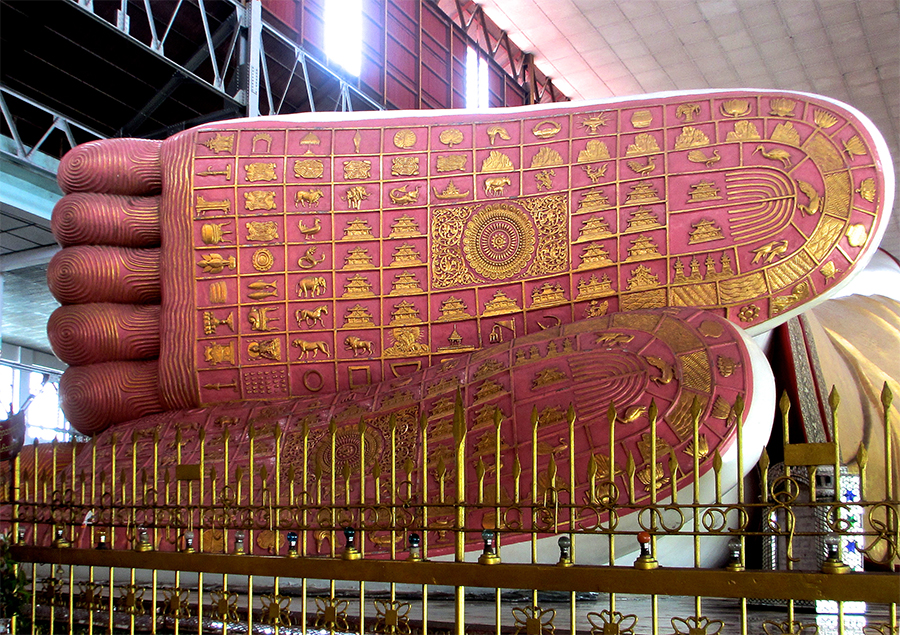 The bottoms of the feet, although not mosaic, are absolutely lovely with icons in gold relief representing the auspicious characteristics of the lives of the Buddha.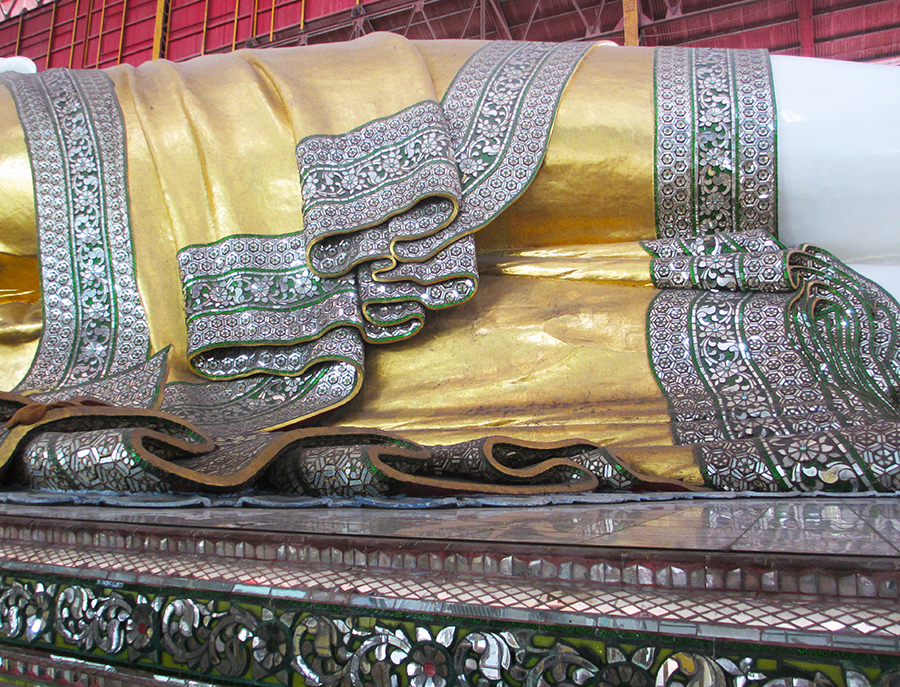 Detail of the mosaic on the robes of the Buddha.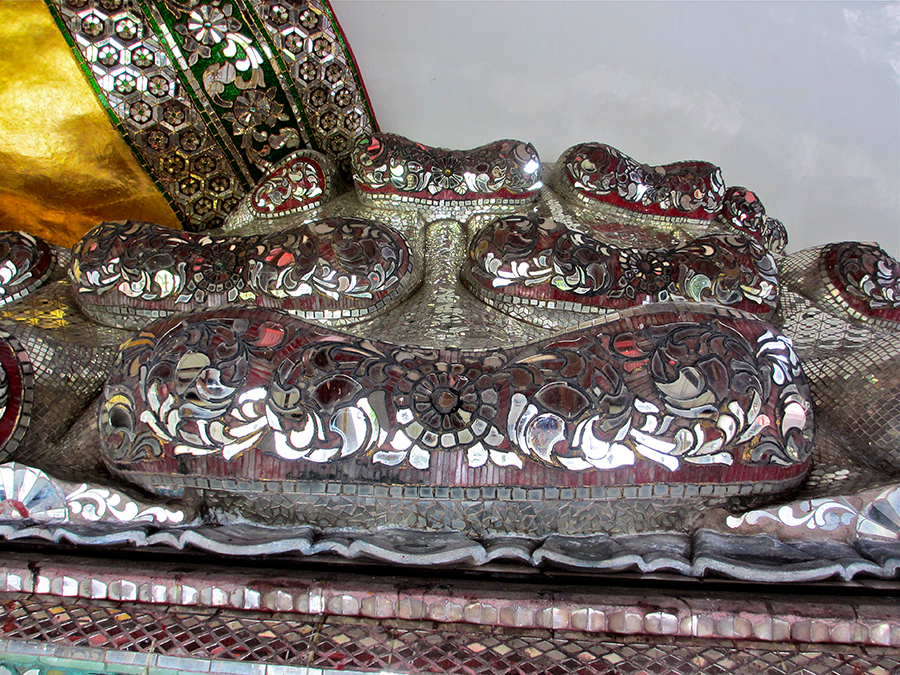 More detailed.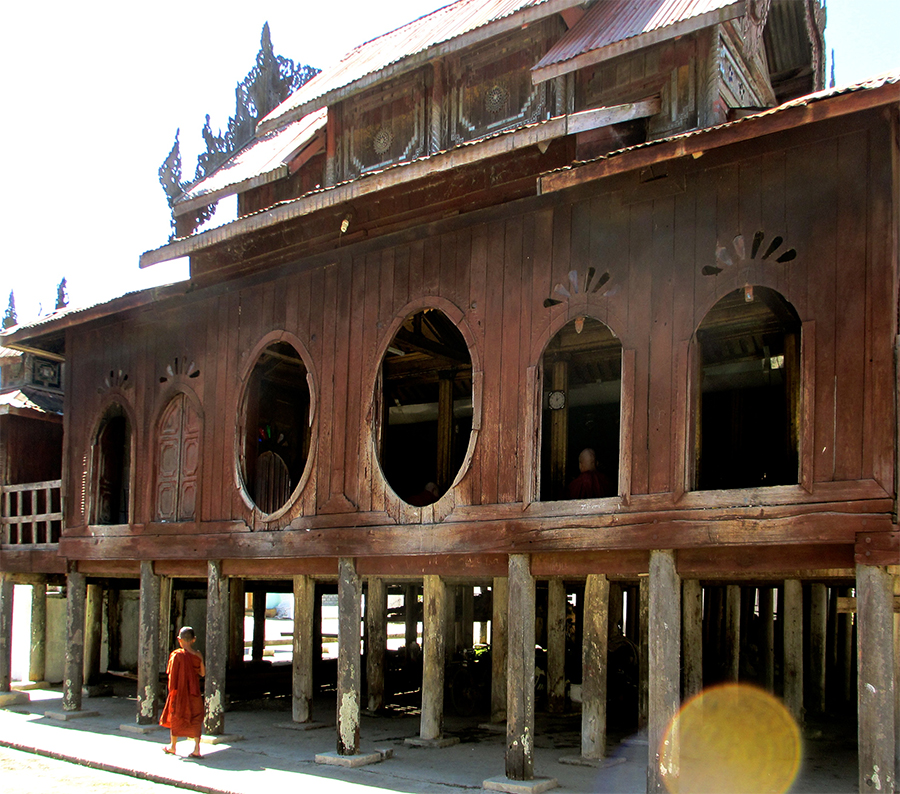 Shwe Yaunghwe Kyaung Monastery is a beautiful wooden monastery near wonderful Inle Lake in Myanmar and one of my favourite stops on our trip. I would love to be able to provide information about the history of this site, but alas, it's going to take more than a basic Internet search to find anything more than photos. If anyone can point me in the right direction, I'd be grateful.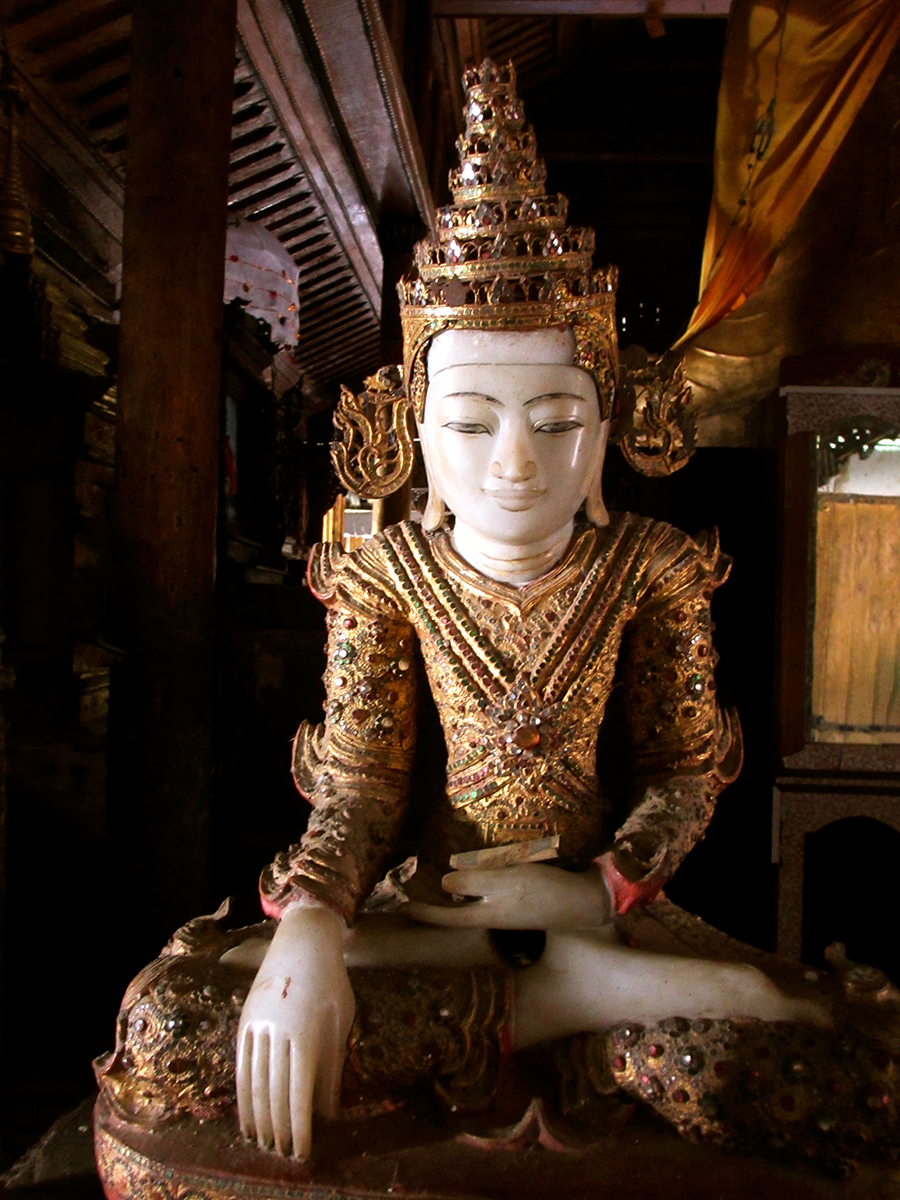 A stunningly beautiful little Earth Touching Buddha statue.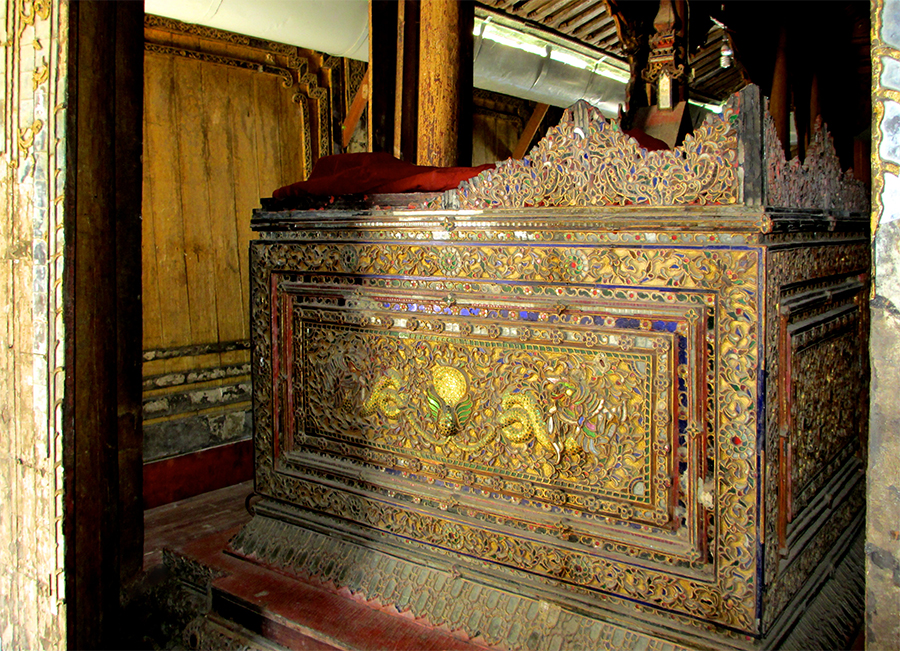 Large chest covered entirely in colourful glass mosaic.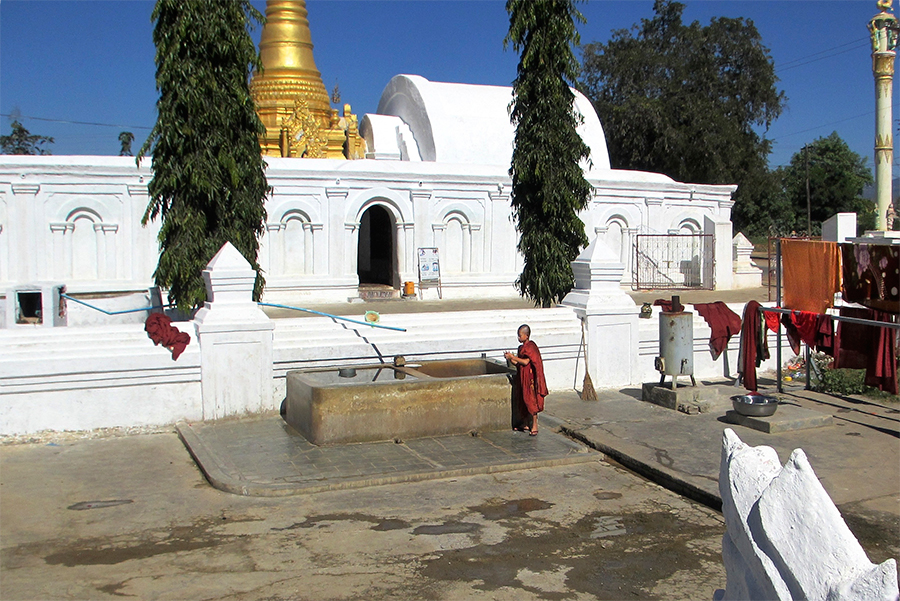 The site also includes an ornately decorated ordination hall and pictured above — the Shwe Yan Pyay Pagoda.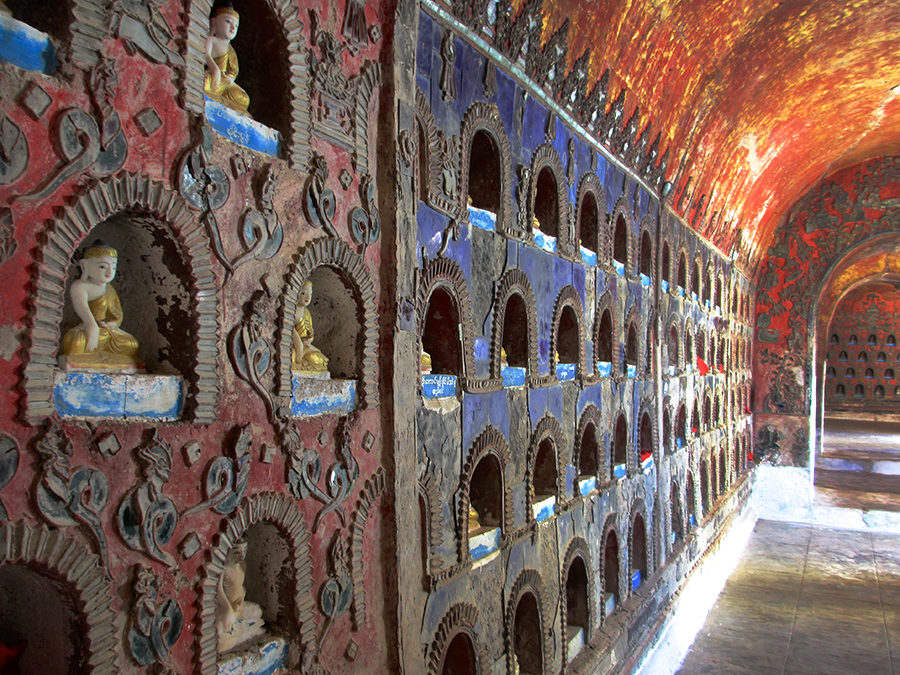 The pagoda's long corridors that are decorated with hundreds of small Buddha niches as well as beautiful glass mosaics that are clearly very old.
One of the many mosaic characters, a little worse for wear but demonstrating how paint was used under clear glass to colour the image.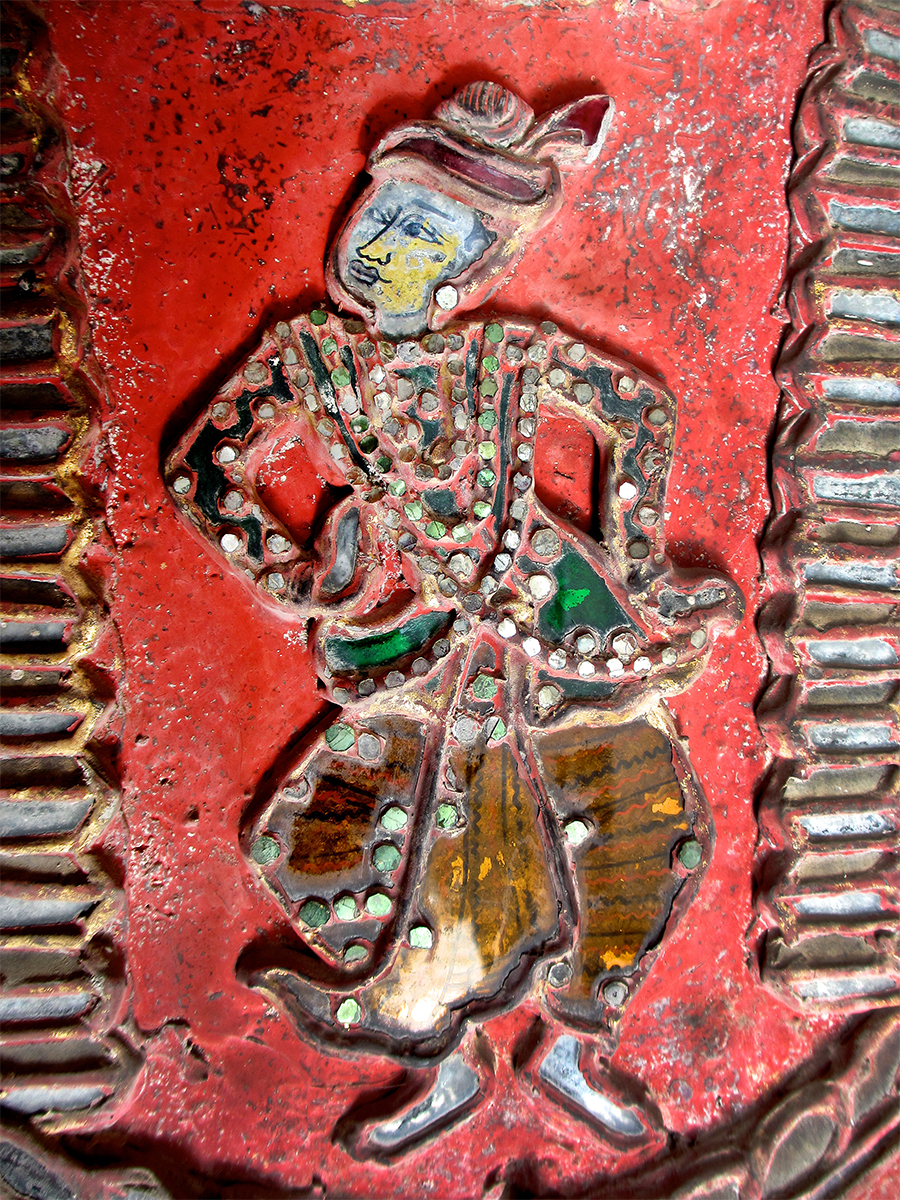 This one's in better shape and far more colourful. It appears that coloured glass was used in this as well as paint.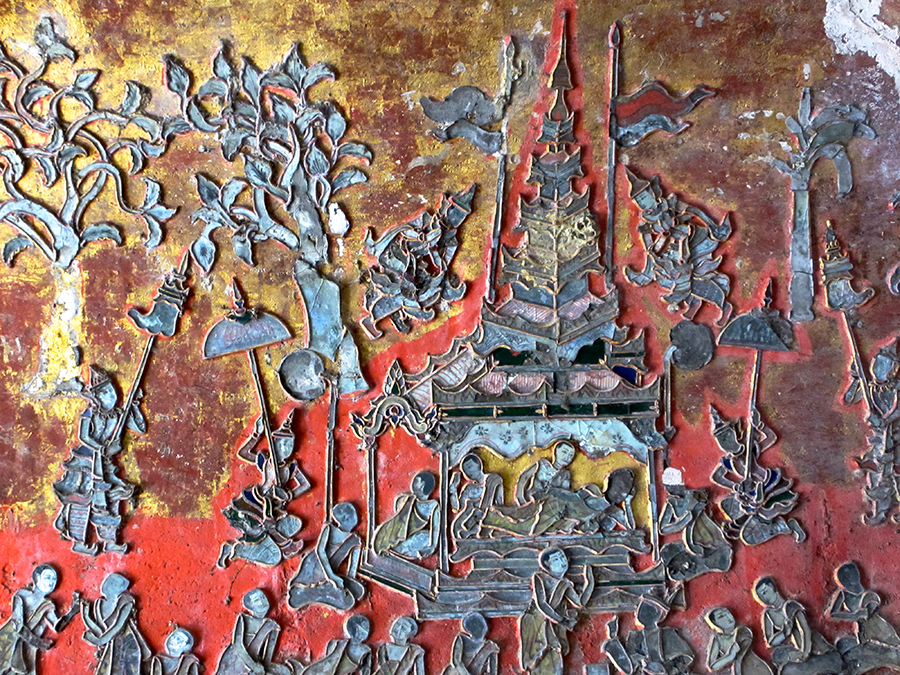 There's clearly a story being told here but sadly I'm unable to tell you what it's about.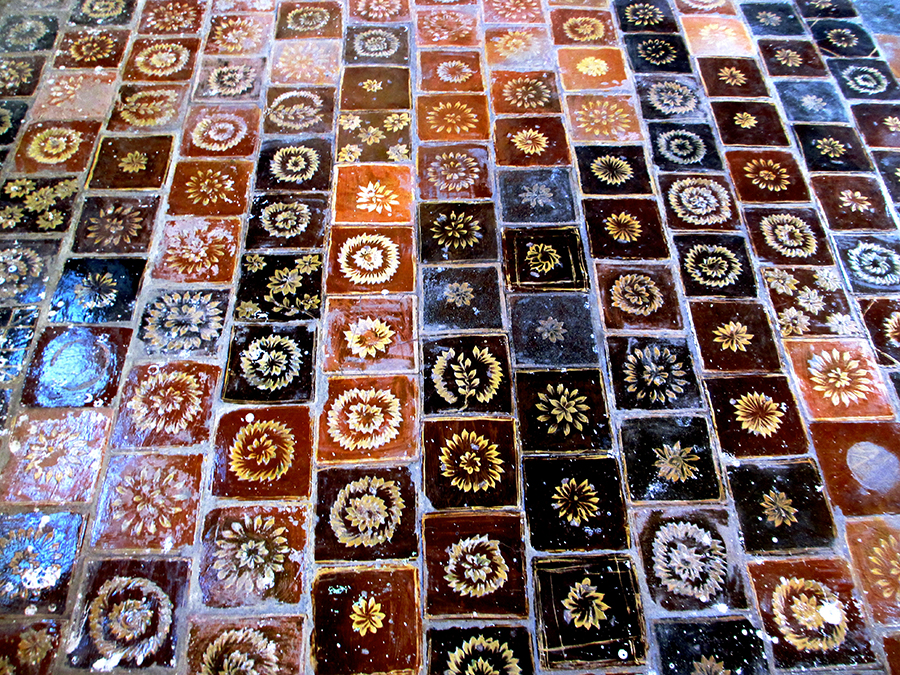 I have to digress once again from the mosaic theme of this post and show you the gorgeous hand painted tile floor also in the Shwe Yan Pyay Pagoda.