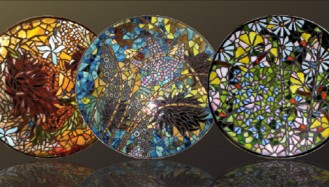 How Time Flies
I am painfully aware of how very long it's been since my last post. It's not that I've been idle. In truth, part of the reason is frustration with my inability to "dialogue" with those who comment. I've added Intense Debate, hoped Word Press would add the notification feature that they have on their .org sites to their .com sites but alas as yet, if you comment on a post, you will not be notified when I reply to your comment – and I always reply. Yes, whining is a poor way to reward you for your visit, but if you have any recommendations as to how I can notify people when their comment has received a reply, I will be eternally grateful.
So, what have I been up to? I have finished another table top. This one based on images and memories from hikes in California.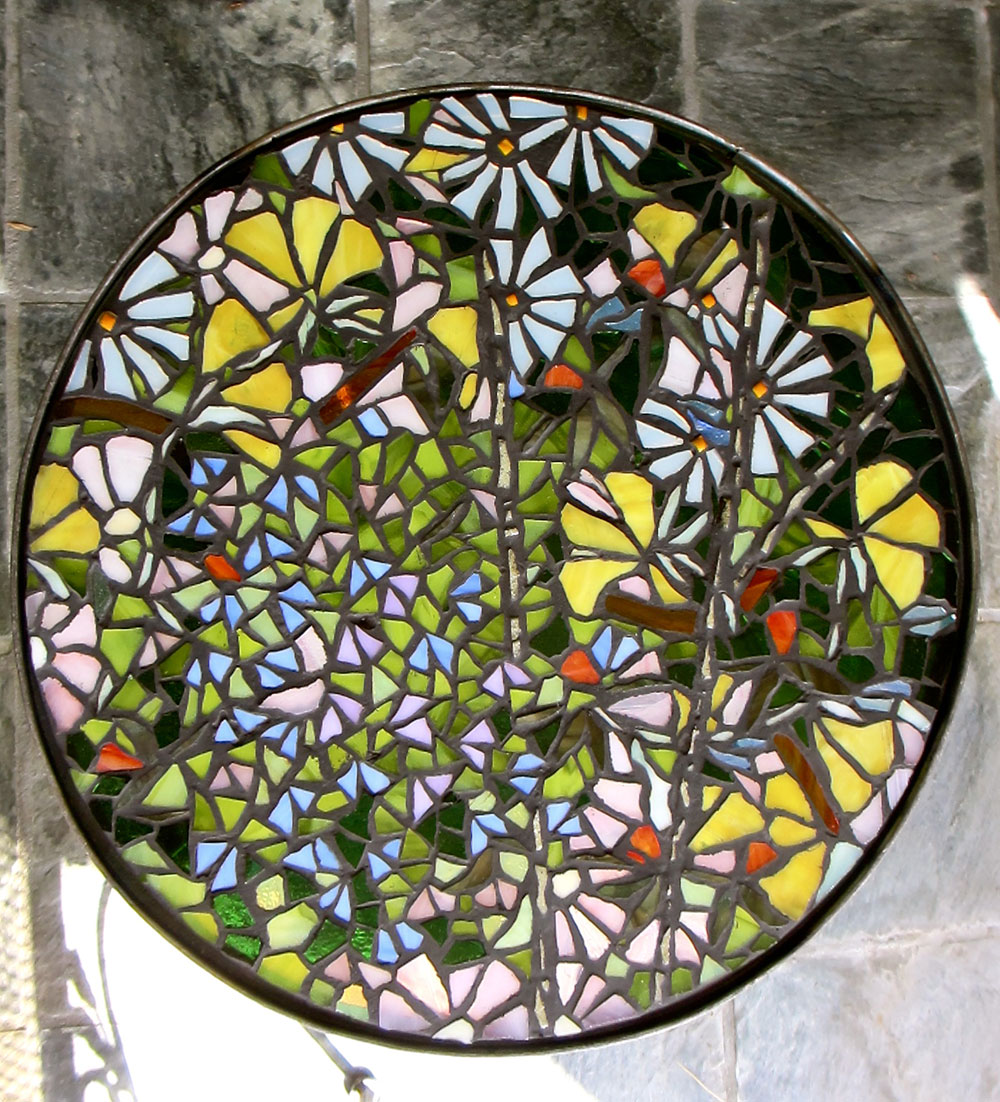 It has a somewhat softer feel than my previous work and I now wish that I had considered a lighter coloured grout to enhance that softness. That, however, will have to wait for another one – and there will be more.
Yesterday we picked up the table bases that I had commissioned to hold my mosaic table tops. They were forged and hand shaped locally to my specifications.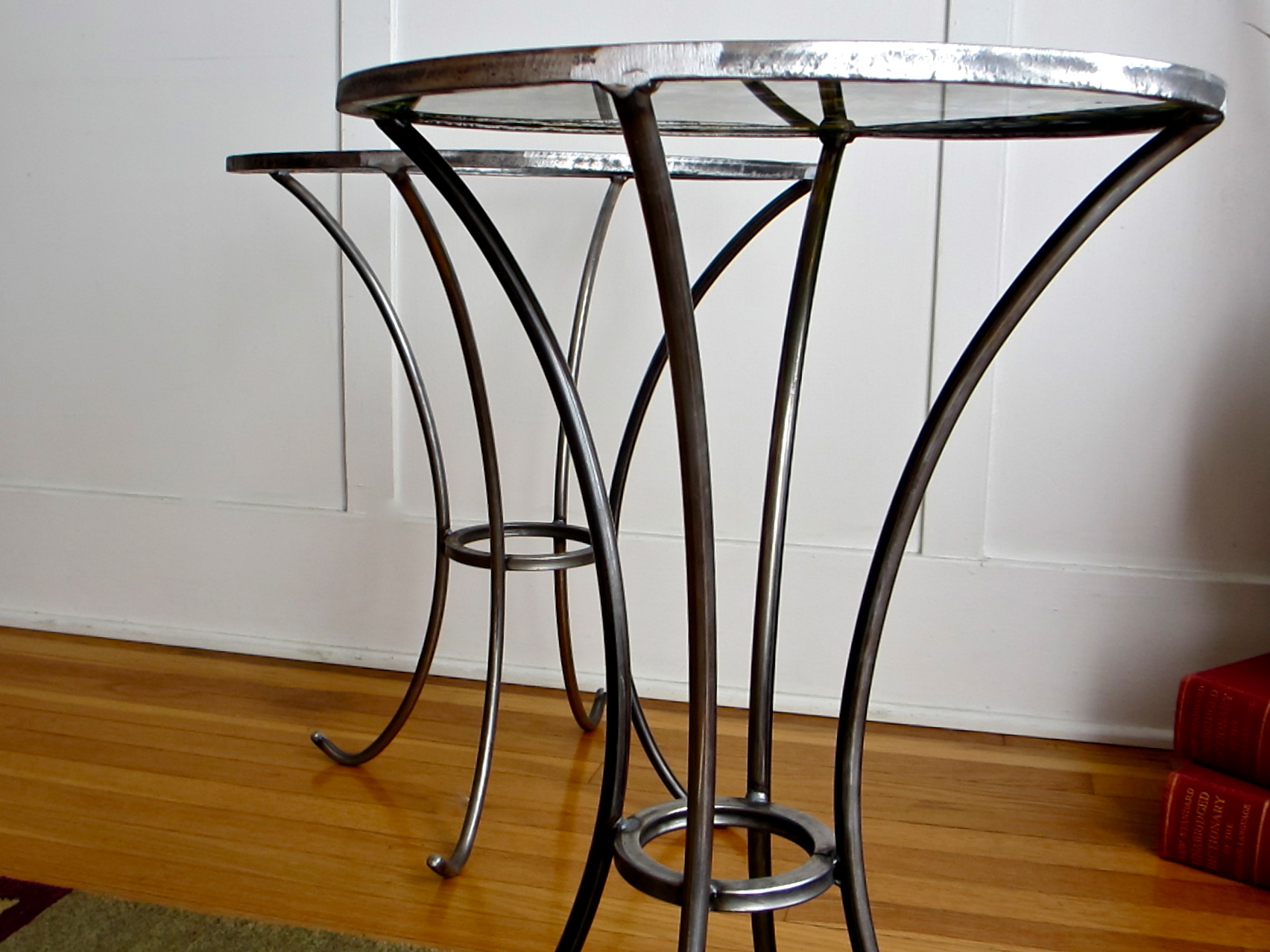 There are two sizes; 15″ as well as 18″ and I expect I'll be adding larger ones soon. We went through a number of iterations trying to design a table base that would compliment rather than compete with the mosaic as well as work in a number of settings and with existing furniture. These have still to be painted, but I'm pleased with the simple clean design. I really have my work cut out for me now, and as soon as I complete the lamp I'm currently working on, I will start another tide pool inspired table top.
Another recent activity has been continuing education. Everything I know about making mosaics I've learned through books, and once the Grotto water feature (see previous post) had water flowing through it, I started second guessing myself.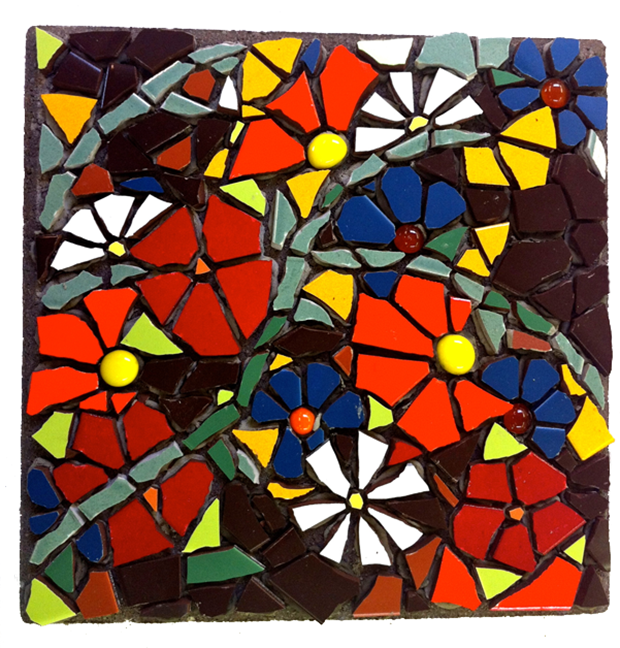 It would be heartbreaking to discover that something I had done or neglected to do might put the longevity of the fountain at risk. So when I discovered that the Institute of Mosaic Art (IMA) in Oakland was offering a two day class in exterior and garden applications, I signed up. I am ecstatic to report that my books didn't fail me and that the fountain should survive for a very long time.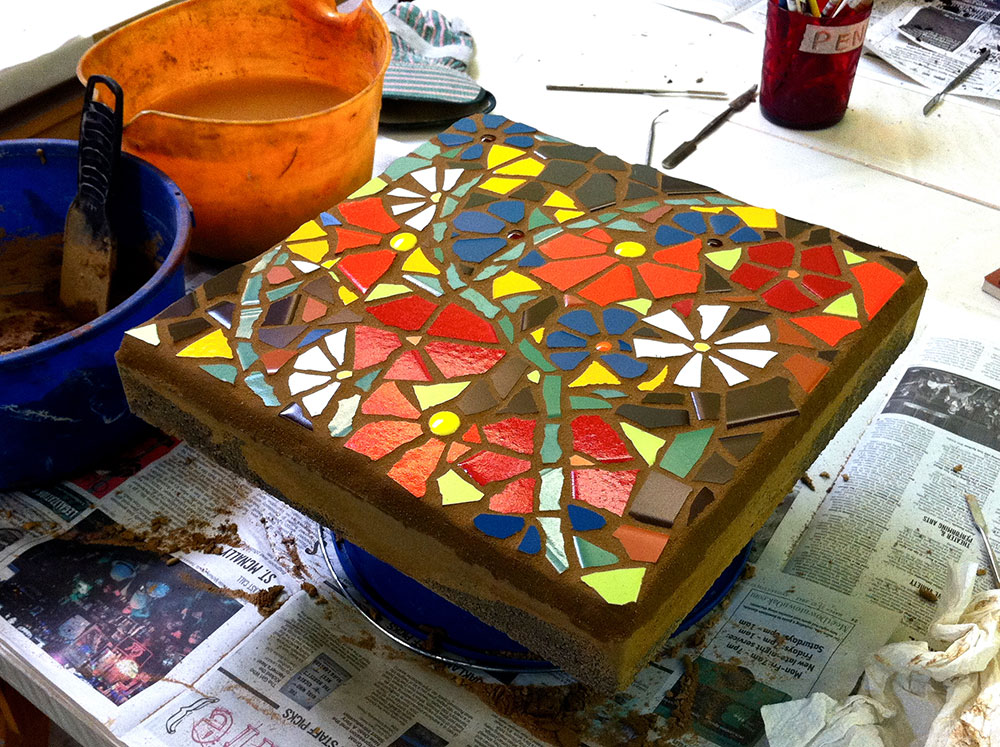 The images above are of the stepping stone I created during the class. It was created with high-fired ceramic tile on a cement paver. I love the intense colour of the ceramic but cutting the stuff was literally a pain. If our instructor Delaine Hackney had not offered the use of a pair of good double-geared nippers I would never have completed the project on time. We had approximately four hours to complete our projects so that they would be ready to grout the following day. Somehow I managed and only exceeded the allotted time by about 10 minutes.
I'm so happy that I took class, not only because it allayed my fears but it was great to be able to ask specific questions, to have questions answered that I didn't even know I had and to meet and spend time with other mosaic artists. I enjoyed it so much in fact, that next month I'll be attending a three day mosaic intensive at the IMA instructed by Sonia King; an artist whose work I greatly admire and the author of one of those books that didn't steer me wrong. I look forward to reporting back.
Update – Since I posted this Jim from True West Media located a plugin that gives you the option of checking a box in the comment section if you want to be informed when a reply to your comment is published. It looks like it might be working. Thanks Jim!