Finding the artist, one more time
If you had told me a decade ago that I was about to enter an extended period of time without making art, I would have sworn it to be impossible. Surely such a thing would kill me, or at the very least turn me to stone. Well here it is, after eight years of artistic celibacy; I'm not dead and my spirit thrives. It did, however, become evident during that time that making art is an essential part of who I am.
Until early 2000 art making was a huge part of my life. I had a lovely large studio and spent a good part of everyday and more frequently night working on projects both for exhibition and for fun. I attended classes, workshops and art retreats, sat on the board of art organizations, adjudicated children's art and gave workshops. I painted in acrylic and oil, used mixed media in various ways and by the end of the 90's, was principally engaged in making found object sculpture and jewellery. I was also part of an artist's collective called The Coterie of Malcontents, working on group projects from exhibits to workshops. My artist friends and I spent a great deal of time creating beautiful or whacky (or both) gifts for each other that were presented at our not infrequent get togethers. Art made up a large part of both my work and social life.
In 2002 I moved from Manitoba to California. As beautiful as Canada is there are things that I confess I was quite happy to leave behind; chief among them the winter weather.
What I dearly missed, however, in addition to family and friends, was time and space for making art. I didn't die or turn to stone, but clearly something was lacking.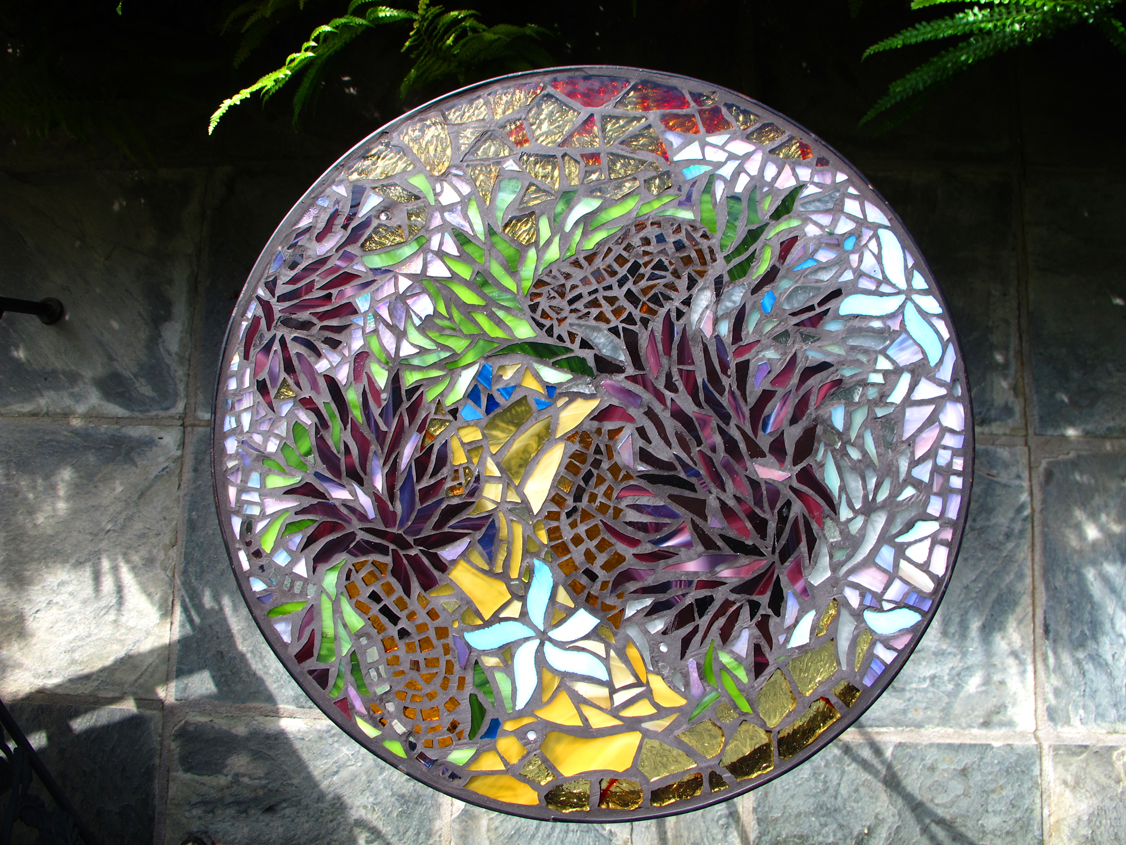 Tide Pool Table
So how to begin the journey back? The lack of sufficient time and space made working in old familiar media unavailable to me but there had to be something that could take its place. With the help and encouragement of my sweetheart, it became apparent that the best way to sculpt and paint without the ability to do either was to create mosaics. Mosaic art makes it possible to build and sculpt using mixed media, to play with colour, to be expressive, and as traditional or avant-garde as I choose. It can be done in a relatively small space and doesn't require concentrated periods of time. So, I bought some books and started breaking things.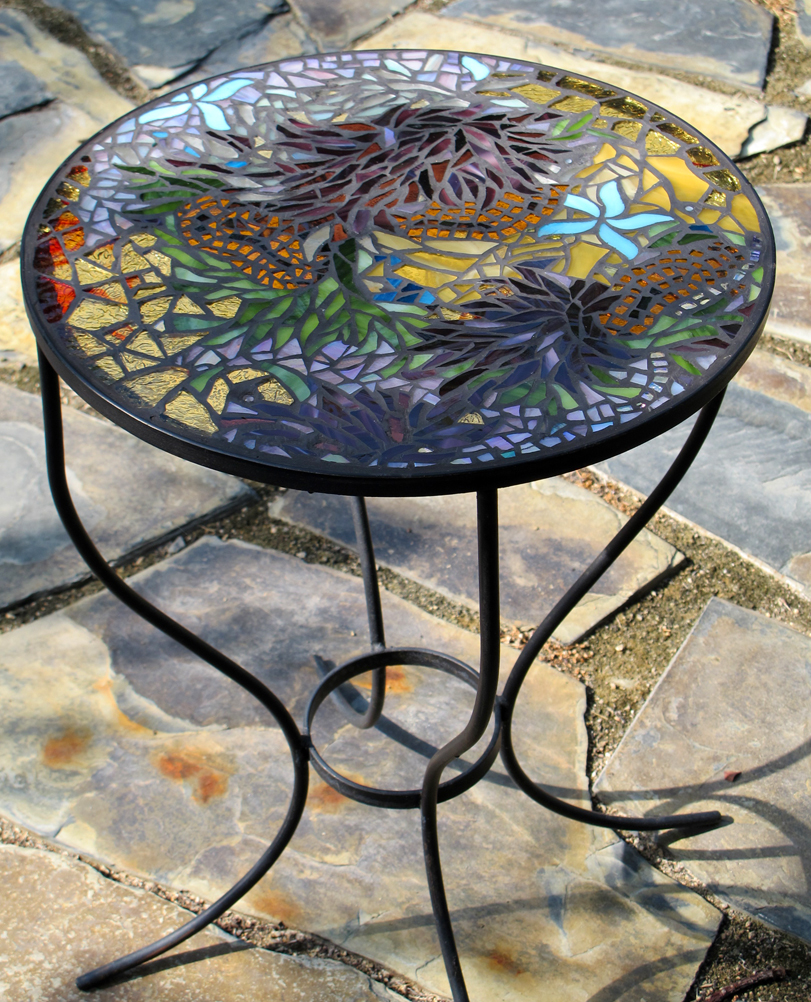 Tide Pool Table
I began with a couple of smaller pieces as a means of learning technique and experimenting with media. I learned some valuable lessons about adhesives and grout and discovered that I really like working in glass. I also discovered that I can work much the way I did with painting and sculpture. I was never a big fan of making sketches or maquettes before I started a piece but preferred to work organically, starting with a picture in my mind and allowing it to develop as I worked. I am now working that same way in my mosaic creation – no pattern, just an idea and an image in my head with any number of places to take it.
It's time to play again, and whatever the outcome, I'm having fun and feeling once again, like an artist.